Full-Time House Maid Services in Coimbatore
     In the bustling city of Coimbatore, where daily life can be both hectic and demanding, managing household chores and responsibilities can often become a significant challenge. This is where the services of a full-time house maid come to the rescue. In this blog, we'll delve into the world of full-time house maid services in Coimbatore, shedding light on their roles, responsibilities, benefits, and how our service, Jai Sri Ohm sakthi Home Care, plays a pivotal role in simplifying your life.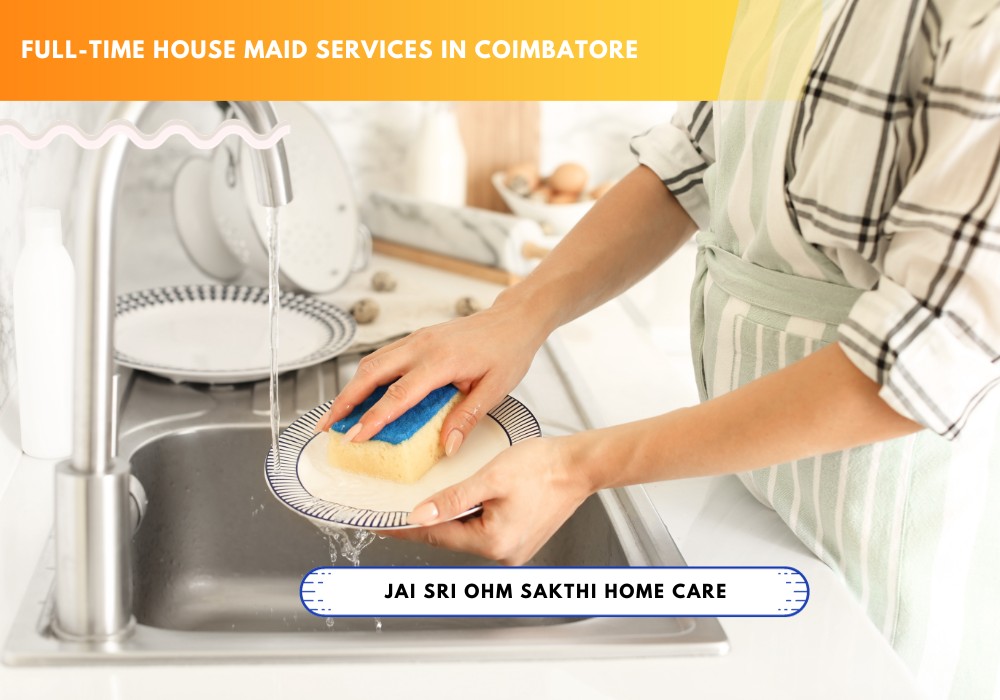 The Role of a Full-Time House Maid
1. Cleaning and Maintenance
One of the primary responsibilities of a full-time house maid is to ensure your home is clean and well-maintained. They'll take care of sweeping, mopping, dusting, and keeping every corner of your house spotless.
2. Cooking and Meal Preparation
Imagine returning home to the aroma of a delicious meal prepared just the way you like it. House maids often take charge of cooking and meal preparation, allowing you to enjoy homemade meals without the fuss.
3. Laundry and Wardrobe Management
From washing and ironing clothes to organizing your wardrobe, they make sure you have freshly laundered clothes and a clutter-free closet.
For families with children, a full-time house maid can be a valuable asset. They assist in looking after the kids, ensuring they are safe and well-cared for while you're at work.
If you have elderly family members at home, a house maid can provide companionship and assist with their daily needs, ensuring their well-being and comfort.
6. Grocery Shopping and Errands
Housemaids often handle grocery shopping and other essential errands, saving you time and ensuring your home is well-stocked with necessities.
The Benefits of Full-Time House Maid Services
Perhaps the most significant advantage of hiring a full-time house maid is the time and convenience it offers. You can focus on your career, personal pursuits, or simply relax while household tasks are taken care of efficiently.
2. Expertise and Professionalism
Experienced house maids are well-trained in their tasks, ensuring that your home is maintained to the highest standards of cleanliness and hygiene.
They become an integral part of your household, providing support not just in chores but also in creating a harmonious family atmosphere.
Knowing that your home is in capable hands brings peace of mind. You can trust your house maid to handle various responsibilities, allowing you to lead a stress-free life.
Why Choose Jai Sri Ohm Sakthi Home Care for Full-Time House Maid Services
At Jai Sri Ohm Sakthi Home Care in Coimbatore, we understand the importance of finding the perfect house maid who fits seamlessly into your family and lifestyle. Our services are designed to meet your unique needs:
In the fast-paced life of Coimbatore, a full-time house maid can be a game-changer, simplifying your daily routine and allowing you to enjoy more quality time with your loved ones. At Jai Sri Ohm Sakthi Home Care, we take pride in offering reliable and efficient full-time house maid services that cater to the diverse needs of our clients. Experience the convenience and peace of mind that come with having a dedicated house maid by your side. Contact us today, and let us take care of your home, so you can take care of life.